The Second 2014 Tremendous Basketball Player Names Tournament – Sweet Sixteen
November 6th, 2014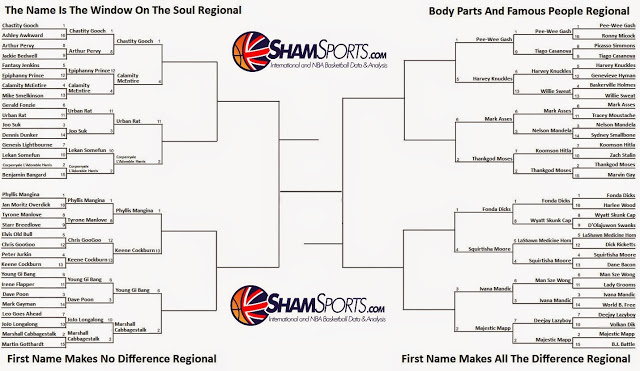 (Click image to enlarge.)
From the "screw it, we might as well finish it" archives comes the continuation of this aborted attempt at a sequel to the initial Ridiculous Names Tournament. This series originally ran on another site, but that site decided to close down indefinitely for whatever reason, which halted the series. Nevertheless, we resume it here. Might even open a sportsbook so you can bet on the outcome. < We've already lost three quarters of the entrants. And now, things start to get tougher.
The Name Is The Window On The Soul Regional
(1) Chastity Gooch v (4) Calamity McEntire:
The Gooch has followed the form book thus far, unchallenged in contests versus Ashley Awkward and Arthur Pervy. Now, she comes up against McEntire, who thus far has over Epiphanny Prince and the sneaky-good Mike Smelkinson. There is probably a "Calamity" pun to be made here, but sometimes you have to be the bigger man.
Chastity Gooch or Calamity McEntire?
(11) Urban Rat v (2) Corperryale L'Adorable Harris:
Rat is the upstart in the bracket, pulling off two upsets in wins over the overseeded Gerald Fonzie and the really overseeded Joo Suk. He now goes up against the real full name of NBA guard Manny Harris, who frankly I would not mind seeing eliminated from the competition so I no longer have to battle to fill his name in on the picture.
Urban Rat or Corperryale L'Adorable Harris?
Body Parts And Famous People Regional
(1) Pee-Wee Gash v (5) Harvey Knuckles:
I hope that the meaning of all these terms are international and universal, because otherwise the seeding of Mr Gash makes no sense.
Pee-Wee Gash or Harvey Knuckles?
(6) Mark Asses v (2) Thankgod Moses:
These ones are certainly universal. Incidentally, if Mark Asses ever has a son, he really should call it Thankgod.
Mark Asses or Thankgod Moses?
First Name Makes No Difference Regional
(1) Phyllis Mangina v (13) Keene Cockburn:
The underseeded Cockburn should be considered a legitimate threat to pull off the 13-1 Sweet Sixteen upset, which so far has never happened in NCAA tournament history.
Phyllis Mangina or Keene Cockburn?
(6) Young Gi Bang v (2) Marshall Cabbagestalk:
One of those matchups you don't want either person to lose. Incidentally, the surname Cabbagestalk is not as rare as I assumed it would be. This one is a favourite.
Young Gi Bang or Marshall Cabbagestalk?
First Name Makes All The Difference Regional
(1) Fonda Dicks v (4) Squirtisha Moore:
These two are both female. So find a state that permits such things, get married, and become Squirtisha Dicks. Do it for me.
Fonda Dicks or Squirtisha Moore?
(3) Ivana Mandic v (2) Majestic Mapp:
Get married, defy convention, have the man adopted the woman's surname, and become Majestic Mandic. Don't worry about the logistics. Do it over the internet if you have to. Just get it done.
Ivana Mandic or Majestic Mapp?