2010 Summer League Rosters: New Orleans Hornets
July 2nd, 2010
Darren Collison
Last year at this time about Darren Collison, I wrote this:
Big fan of Collison. He's like Chris Duhon except with a mid range game and the ability to recognise when to shoot. And Chris Duhon with those things added to his game would be a fine player.
Turns out he was even better than that. Duhon's career has been peppered by games in which he plays outrageously well, mired amongst weeks of mediocrity. Those are called, by me at least, "Duhon Games." Collison's rookie season was made up solely of Duhon games. It was a beautiful thing.
But don't be mistaken. Collison's awesome rookie season does not make Chris Paul available for trade. The only way Chris Paul gets traded is if Chris Paul demands it. And if the Hornets succumb to that pressure before they do everything possible to better the team – which includes, but is not limited to, getting value for that Peja Stojakovic expiring – then they should be ashamed. Darren Collison is good, but Chris Paul is an all-time calibre point guard. You don't trade all-time calibre point guards just to move Emeka Okafor.


Aubrey Coleman
It was a surprise to see Coleman go undrafted, and as such, if the Hornets have the room under the tax, then he figures to be a candidate for a roster spot. Coleman's numbers last season – a Division 1 leading 25.6 points, 7.4 rebounds, 2.6 assists and 2.7 steals per game – make him faultless. And of course, he is not faultless. Coleman has a good pull-up mid range game, but is not much of an outside shooter, and is also only about 6'3. He also dominates the ball (which he can't do at the NBA level), takes wild shots, turns it over too much, and doesn't shoot well from the foul line (although getting there is easily enough. Nevertheless, the numbers are huge. And even if he has to make it in as a defensive specialist (a weird statement to write about a 26ppg scorer), Coleman has a chance.

Armon Bassett
Bassett's college career lowlight came when he was kicked off of Indiana's roster for continued petulance. He then transferred to UAB, but left three months later without playing a game, citing a need to be closer to home. He then went to the University of Ohio, which is even further away from his home. But there, Bassett had his career highlight; in the Mid-American Conference tournament, Bassett scored 116 points in the Bobcats' four games to win them a place in the NCAA tournament. Once there, and in front of an international audience (including me), Bassett scored 32 points in an upset win over #3 seed Georgetown, carrying his team as far as the second round of the tournament from next to nowhere. Bassett finally ran out of gas in the second, scoring only 7 points with 7 turnovers in Ohio's second round defeat against Tennessee. But not before he'd made his name. (Again.)
Unfortunately, Bassett then undid all the good work by being arrested after the season ended for breaking a bouncer's nose. You've got to be good to overlook all of that soap opera. And Bassett isn't. He can drive, but only if you let him drive left. He can get to the basket, but he can't finish when he gets there. He can shoot from outside, but not every night, nor without the occasional wild one. And at only 6'2, Bassett is no point guard. The pizza parlour incident is not the reason he did not get drafted. It just didn't help.
Marcus Thornton
I'd just like to say that I totally called it on Marcus Thornton. (Skip to the bottom.)
Maurice Ager
Ager had one of the worst NBA careers of all time. It lasted three years, in which time he played 78 games and 476 minutes for two teams, taking 178 shots and hitting only 58. Ager scored 156 points on those 178 shots for a career true shooting percentage of .382, and yet took a shot every 2 minutes and 40 seconds despite the fact he missed them all. As a self-appointed shooter, Ager hit only 8 three pointers in 36 months, a career total rebounding percentage of 8.9% and a career assist percentage of 6.1%. He did nothing but try to score, usually in garbage time, and he didn't do that either.
It was not a good NBA career, all told, and the Nets let him walk unchallenged last summer. Ager then went to Spain where he signed with Cajasol Sevilla; unfortunately, it was more of the same. Ager kept putting up the shots, and they kept not going in. In 12 ACB games for Sevilla, Ager averaged 3.3 points and 1.1 rebounds per game, shooting 28% from the field and 29% from the three point line. Understandably underwhelmed by this poor production from a former NBA first round draft pick import, Sevilla let him go, and Ager returned to America to join the D-League. He stopped the rot there, averaging 15.6 points, 4.5 rebounds and 3.4 assists in 22 games for the stacked Maine Red Claws. However, that's the sum total of his career to date. We're headed towards year five and he just hasn't gotten started yet.
Despite how terrible his NBA career was, Ager is the only person on this list, other than Collison and Thornton, to have any NBA experience. The rest have not even had as much as a training camp contract between them. Contrast this with Utah's roster, broken down previously, and you can see why this is notable. But it's not necessarily wrong.
Josh Carter
Carter is a swingman out of Texas A&M who went undrafted in 2009, and so did what many undrafted swingman do; he went to Germany. Rather than joining any German team, Carter managed to land a lucrative gig with EWE Baskets Oldenburg, who were in the Euroleague this year. And playing rotation minutes in the Euroleague in your first professional season is no mean feat.
Unfortunately, Carter didn't play very well. He is primarily an outside shooter, even moreso at the upper echelons of the game, but he just didn't shoot well last year. Carter averaged 7.7 ppg in the German league on 32% 3PT, and 7.8 ppg in the Euroleague on 33% 3PT, taking three 3 pointers to every two 2 pointers. He has NBA size at 6'7, but not the jumpshot, and is no Demetris Nichols.
Carlos Wheeler
This is Carlos Wheeler's first whiff of the NBA, and it comes at age 32. His career arc to this point reads;
– Pensacola (junior college)
– Campbellsville (NAIA)
– Al Zamalek (Egypt)
– Maccabi Qiryat Biyallik (Israel)
– Barako Bull (Philippines)
– Pennsylvania Valley Dawgs (USBL)
– Maccabi Petah Tikva (Israel)
– Panteras del Distrito Nacional (Dominican Republic)
– Plannja Basket Lulea (Sweden)
– Rome Gladiators (WBA)
– Houston Undertakers (ABA)
– La Villa (Dominican Republic)
– Hebraica Macabi (Uruguay)
– Central Entrerriano Gualeguaychu (Argentina)
– Utah Flash (D-League)
One of those things is not like the others, and that's the last one. The second best standard of competition there is probably the Philippines league. And the 6'8 Wheeler will have been lucky to get in there. For the Flash last year Wheeler averaged 12.6 points, 7.3 rebounds and 2.1 assists, but those kind of numbers make you summer league filler, not NBA roster material. Great for the CV, but not a new career arc.
Kyle Hines
Only six players in the history of NCAA basketball have ever recorded more than 2,000 points, 1,000 rebounds and 300 blocks. Those six are David Robinson (1st overall pick, 1987), Pervis Ellison (1st overall pick, 1989), Derrick Coleman (1st overall pick, 1990), Tim Duncan (1st overall pick, 1997), Alonzo Mourning (2nd overall pick, 1992, behind only Shaquille O'Neal) and Kyle Hines (undrafted, 2008). And now in his professional career, Kyle Hines continues to put up numbers whenever he goes.
Unfortunately, that continues to be in the Italian second division. In his second season for Prima Veroli, Hines averaged 18.5 points, 8.1 rebounds, 3.5 steals and 1.8 blocks per game, all while playing as a 6'6 centre. For the second year in a row, he helped Veroli to the LegaDue finals, where they lost out on a promotion place. However, just because Veroli aren't going to SerieA, it doesn't mean Hines can't. With those kinds of numbers, it's high time he moved up a level.
Nikola Dragovic
Dragovic is fresh from UCLA's highly disappointing tournament-less season, and he was one of the disappointments. He is a big old boy, 6'9 and incredibly strong, yet all he wants to do with that frame is take jumpshots. And he's just not as good at shooting as he wants to be.
Dragovic averaged 12.0 points, 4.4 rebounds and 1.3 assists per game last year, but if those numbers look great, they lie. This is a UCLA team on which Michael Roll led the team in both scoring and assists. It was not a good team, not a good team at all. Dragovic took a lot of shots on the basis that someone had to, and even then, he took a lot of bad ones. He shot 37% on the season and only 28% from three point range, rebounding terribly (those numbers came in 32 minutes per game) and not playing any defense. He also managed to get arrested twice in his UCLA career, including once for felonious assault (a charge which was later dropped).
On the plus side, Dragovic was once a member of the 2007 Serbian U-20 national team, which suggests at pedigree, but he underperformed at UCLA and was particularly bad this season. You can excuse this because of the team's struggles in general, or you can cite Dragovic as part of the reason why they struggled. Your call.
Sean Sonderleiter
Sonderleiter is a D-League veteran with a resumé to match. He played three and a bit seasons at Iowa, with career best averages of 8.4 rebounds and 4.0 rebounds, before quitting the team halfway through his senior season. In a short space of time, Sonderleiter's sister died, he dislocated his shoulder and he was busted for marijuana possession; he left the program in January 2004 and did not return.
Sonderleiter then didn't play again for three and half years, until the summer of 2007, when he appeared in an Australian minor league called the State Basketball League. The SBL is a semi-professional league; nevertheless, Sonderleiter spent a couple of summers down there, averaging 23/10 in 2007 and 24/13 in 2008. A couple of months later, Sonderleiter was drafted 155th (not a typo) in the D-League draft by the Fort Wayne Mad Ants in the D-League, where he spent much of the 2008-09 season, averaging 4.0 points and 3.1 rebounds. This year, he improved those numbers to an average 11.0 points and 6.3 rebounds per game. And this has got him into the NBA fold, if only at summer league level.
How did he get from there to here? How did a 29 year old unathletic 6'9 face-up power forward without a three point shot go from three and a half years out of the sport to the NBA summer leagues, via a Western Australian semi-professional league and two years on a D-League bench? I don't know. But I do know that he has a haircut like an anime character.
Good luck to Sean Sonderleiter. And to Carlos Wheeler. The Hornets definitely scouted the D-League last year, and maybe a little bit too much so.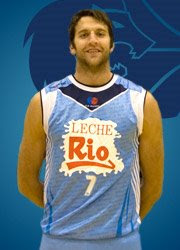 Brian Cusworth
Cusworth was with the Hornets for summer league last year, too, at which time I wrote this about him:
Cusworth is an occasionally bearded 7'0 centre, Harvard graduate, all-Ivy League second team member in 2005, former winner of the Estonian National Championships and former Estonian league MVP. He won those awards in 2007/08 and was able to turn it into a prolific gig in the Spanish second division, with a team called Leche Rio Breogan Lugo. Cusworth averaged 27 minutes per game, totalling averages of 15.9 points, 7.1 rebounds, 1.3 blocks and 1.4 steals per game. He's succeeded everywhere that he's played. But that's because he's never played at a standard this good before.
Since that time, Cusworth has played in the ACB, the second best league in the world. His numbers took an inevitable hit. But they were still respectable; Cusworth averaged 9.7 points and 3.8 rebounds per game, shooting 50% from the field and 80% from the line. He played 22 minutes per game, however, which makes the rebounding numbers look quite bad, and he also averaged 3.6 fouls per game. But scoring 7 footers are always hard to come by, and so even if Cusworth is now 26 and unable to rebound, you can see where the looks keep coming from.
Liam Potter
Liam Potter is 7 foot tall and armed with good shotblocking ability. Liam Potter is also from England, which makes him dangerously brilliant (and brilliantly dangerous). Unfortunately, that's about all there is to like at this level.
Potter is a fifth year centre out of Sacred Heart, and the words "fifth year centre out of Sacred Heart" are never good for a player's NBA credentials. It also doesn't help that Potter's best averages in his first three years were 4.6 points and 3.1 rebounds in his sophomore year. However, after a medical redshirt, Potter returned as a senior and put up 9.5 points, 8.3 rebounds and 2.0 blocks, showing signs of life in the otherwise moribund Northeast Conference (except for Mezie Nwigwe, who rules). However, if you're a fifth year senior averaging less than 10ppg while standing 7 feet tall in the Northeast Conference, I'm willing to wager that your offense is best described as "inconvenient". I haven't seen anything of Potter to confirm this, but the numbers seem to confirm it.
Here is Liam Potter in a presumaly satirical highlight video. He's the tall white one. The black one is Alfred Aboya, formerly of UCLA.
The LEB Silver awaits.